Frameless Glass Shower Screens in Melbourne
Frameless glass shower screens are a great way to modernise, add value, and style any bathroom space. With their clean design, and no frames required, frameless glass offers a great solution in creating the feeling of a more open space for your shower area. Our range of premium quality frameless shower screens are world class, and can be custom designed to fit all bathroom spaces.
Modernise your bathroom with durable Frameless Glass
Adding frameless glass to your shower screen is a great way to update your bathroom, adding a touch of class to your new or existing bathroom renovation. Our extensive range of shower screens offer a truly unique design that complements the styling of your bathroom. Made with tempered glass that is 10mm thick, each shower screen is highly durable and can withstand heavy knocks and bumps.
Hygienic and easy to maintain
As our frameless shower screens require only a small amount of hardware to connect the panels, it is easy to clean and maintain. Glass does not encourage the growth of bacteria, and can be cleaned with soap and water. In order to maintain its look we suggest wiping down the shower screen with a squeegee after each use.
Our Frameless Glass Shower screens
Quick installation and on budget
Our expertly trained glaziers in Melbourne can have a stunning new shower screen measured and installed on time and on budget, ensuring your requirements and expectations are more than exceeded. We pride ourselves on offering unrivalled customer service and delivering state-of-the-art glass products that you can rely on. Once ordered installation can be completed within 10 to 14 days.
Contact our specialist team for more information
For more information about our frameless shower screen products, please contact our experienced team today. We are Melbourne's leading suppliers of frameless glass and are here to help you achieve your dream bathroom renovation. We regularly supply and install frameless glass showers screens for a range of shower sizes and bathrooms across Melbourne and surrounding regions. For enquiries and a no obligation quote on our glass shower screens, contact us on 1300 769 993, and one of our specialist team members will be available to help.
Types of glass shower screens available:
FIXED PANEL FRAMELESS GLASS SHOWER SCREEN
This shower screen has a fixed panel, with the glass anchored to one side of the wall. When using the shower you will enter from the opposite side as there will be no door present.This is a great solution especially if you have had problems with door hinges in the past, or are looking for a streamlined and elegant shower screen for your bathroom.                          
INLINE HINGED FRAMELESS GLASS SHOWER SCREEN
The Inline Hinged Shower Screen is a wall to wall solution, with a single door that operates using hinges. This type of shower screen is modern, and suitable for double showers. This style is highly popular with larger bathrooms, and creates a great open and airy feel for bathrooms of this size.                          
FIX AND SWING FRAMELESS GLASS SHOWER SCREEN
The Fix and Swing Frameless Shower Screen uses a fixed panel which is attached to a hinged panel. This allows the doors to swing open and move, offering greater flexibility and use of the shower-bath space, making it the ideal choice for bathroom-shower combinations.                        
Inline Slider Frameless Glass Shower Screen
The Inline Slider Shower Screen uses a wall to wall glass panel solution, with one entrance on the opposite side. This type of shower screen is great for smaller spaces, in creating more depth and opening the bathroom. For this shower screen we use only the highest quality materials for the sliders, ensuring that the sliding mechanism is perfectly balanced, and opens with the slightest touch.                          
Corner Hinged Frameless Shower Screen
For modern bathroom renovations, the Corner Hinged Frameless Shower Screen is an extremely popular choice. This design consists of two panels that square off a corner of the bathroom. With this style we have a wide variety of custom sizes to choose from, and we are able to cater for both single and double shower requirements.                       
Corner Slider Frameless Shower Screen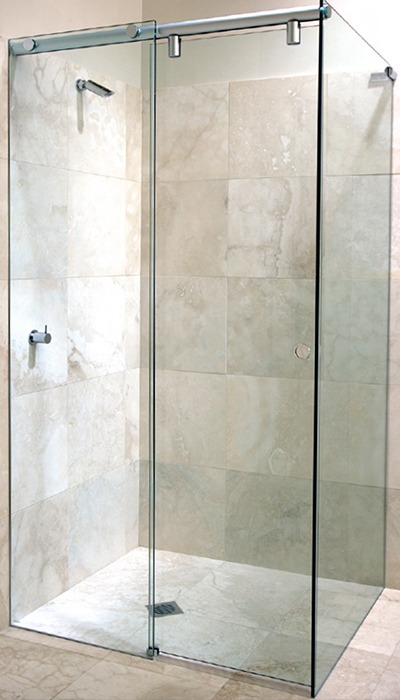 The Corner Slider Frameless Shower Screen is a great solution for smaller modern bathrooms. Designed to maximise bathroom space, this shower consists of a sliding panel for the entrance as well as two panels that square off the shower space.                          
EUROGLIDE INLINE FRAMELESS SHOWER SCREEN
The Euroglide Inline Shower Screen is one of our most unique shower screens, the panels sit perfectly on two stainless steel rollers, as opposed to an entire frame. This results in a flawless, gliding shower screen, and is a suitable, modern alternative to a pivot door. This design is a two panel, wall-to-wall solution and is great for larger bathrooms.                        
EUROGLIDE CORNER FRAMELESS SHOWER SCREEN
The Euroglide Corner Shower Screen is a three panel, corner solution. Similar to the Euroglide Inline, this screen sits within two stainless steel roller doors, making for a flawless gliding shower screen. This is a great solution when looking for an alternative to a pivot door, perfect for modernising your bathroom space.                     
Frequently Asked Questions:
What is the difference between a framed shower screen and a frameless shower screen?
A framed shower screen is manufactured using thinner, weaker and ultimately, inferior glass. This type of shower screen relies on metal to reinforce the enclosure. Frameless glass instead is tempered, ensuring that it is extremely high quality and significantly stronger, without needing to use metal framing around the border. Frameless glass shower screen doors also eliminate the wobble found in cheaper shower doors bought from a store, when opening or closing the screen.

What are the advantages of a frameless shower screen?
A frameless shower screen is modern, clean and open, which can help improve the appearance of any bathroom, and ultimately the value of your home. Frameless shower screens also last significantly longer than standard shower doors due to the use of higher quality glass and construction. Another key advantage is that frameless glass can be easily cleaned as it has minimal perimeter support, and can be cleaned without hassle using a squeegee.
How do I clean my shower screen?
To keep your glass free from potentially damaging water spots, we suggest cleaning your shower with a squeegee after each use. The use of a squeegee on a daily basis is the simplest and fastest way to avoid water and grime build up on your brand new shower screen. We also advise using only a non-ammonia glass cleaner, as extensive use of ammonia can inflict serious damage.

Do you use fittings and glass that adhere with Australian standards?
Yes. We pride ourselves on using the very best quality glass and hardware for our products. We have been working with our partners and suppliers for many years, and never compromise on the high quality standards for each product.
Do you offer FREE quotes?
We certainly do. Simply fill in the request a
quote form
, or call our team on
1300 769 993
.We will be more than happy to organise a no obligation assessment at a time that is most convenient for you.
How long does a shower screen installation take?
Most frameless glass shower screen installations typically take 10-14 working days, from order to completion.
Do frameless glass shower screens leak?
No, when installed correctly, by the expert team at Framless Impressions in Melbourne, your brand new frameless glass showers will not leak.
Do you provide a warranty?
Yes. At Frameless Impressions all our shower screens are covered by an extended warranty.